Insanely productive people, we've all seen them; they come out with a new book every month, they run programs, hold webinars, they post regularly on all the social media sites, they are unstoppable! How do they do it?
Mindset. They have the right mindset. They don't let limiting beliefs stop them. They work smarter not harder. They focus, use their energy wisely, are disciplined and organized.
How can you get the right mindset?
You can get the right mindset by reprogramming your mind, changing the negative things that you say to yourself, getting rid of limiting beliefs and other self-sabotaging behavior that goes on in the background, most of which you are not even aware of. Using hypnosis and NLP can help to replace beliefs that are not serving you with new empowering beliefs.
After listening to the hypnosis session, Be Insanely Productive, I found myself focusing on the important things and making improvements in my productivity.
Listening to the session over and over increased the level of productivity I experienced each day. Writing positive statements from the session on a whiteboard where I would read them often helped to increase my level of productivity even more. Becoming really really productive was becoming my new normal, my new habit.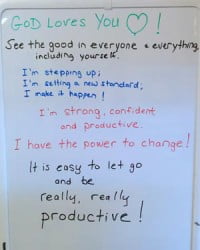 I chose these positive statements from Be Insanely Productive to read daily on my whiteboard:
I'm stepping up
I'm setting a new standard
I make it happen!
I'm strong, confident, and productive.
I have the power to change!
It is easy to let go and be really, really productive!
Click on the video below to listen to Be Insanely Productive by Hypnosis Live
After listening a couple of times, you could skip the introduction and begin the session at 13:07.
If you enjoyed this hypnosis session, find out about the other 200 MP3s available at Hypnosis Live
Full Disclosure: If you purchase from these links I may receive a small commission, so thank you in advance if you do, I really appreciate it.