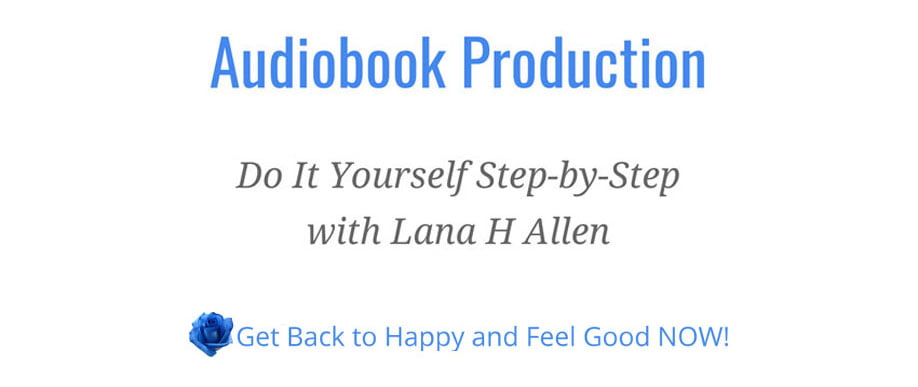 How to Record, Master, and Publish an Audiobook
It took a lot of time and experimenting to figure out how to create and publish an audiobook. Quality of the original recordings is very important, so I spent time testing how I could get the best quality recordings with the tools and space I had to work with.
Audiobook Production Do It Yourself Step-by-Step started out as a checklist of the steps and settings I was using to turn my book into an audiobook. I wanted to be able to repeat the process without figuring it out all over again, and it turned out to be very helpful when I created my second audiobook.
I published my audiobooks with Findaway Voices and followed their requirements for creating and publishing. As technology changes, so too may the requirements for publication, so be sure to check all requirements at the time you publish your audiobook.
This pdf includes the steps I used to create the audiobook for: Mindfulness: From Chaos to Calm (The Simple Success System, Book 1). Then I tested and tweaked the steps while creating the audio files for my next audiobook, Love Yourself Being You: A Way to Live Your Best Life (Quiet Your Mind, Eliminate Stress, Find Inner Peace).
Create Your Audiobook Now!
In Audiobook Production Do It Yourself Step-by-Step, I share how I record my audiobooks, the specific settings and steps I used to edit and master the files, information about cover images and the retail sample, as well as shortcut keys to make editing the files quicker and easier. I used Audacity, which is free, open-source software, to edit and prepare the files for publication. You can also use Audacity as a recorder and it's available for Windows, macOS, and GNU/Linux operating systems.
Get your behind the scene look at how to create an audiobook with the exact settings I used, including screenshots.
This is a pdf digital download.
All digital sales are final – no refunds, but please contact me if you have any problems with your order. CAD $7.