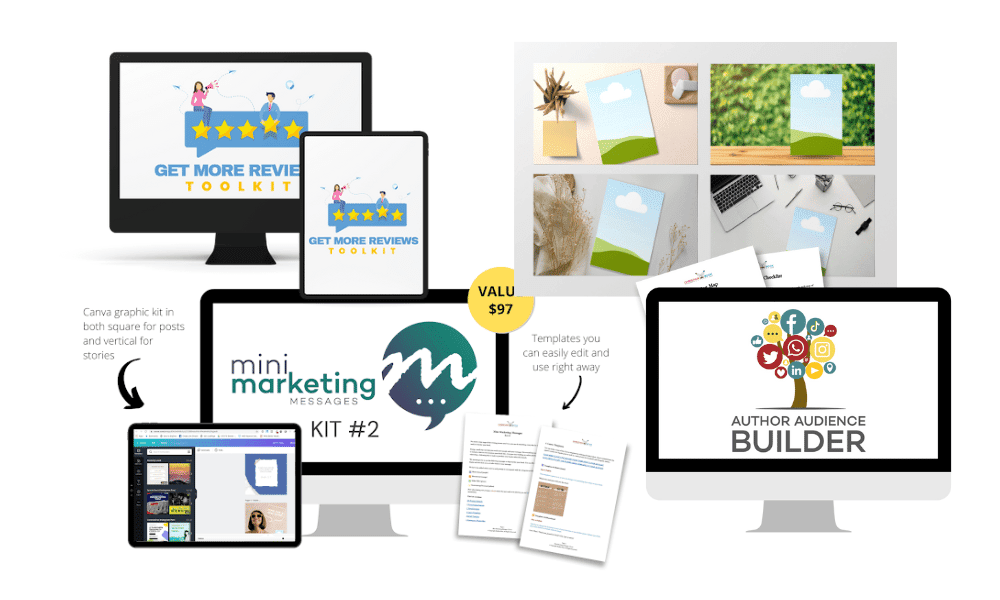 Attention Authors!
Do you want to reach more readers, impact more lives, and sell more books? If so, please check out the Book Marketing Shop.
Many people believe if you write great books and publish them, the sales will follow. This may be true if you're well known and already have a large audience, but most books get lost among the enormous volume being published every day. People won't buy your book if they can't find it or don't know about it. That's where the Book Marketing Shop comes in. It's filled with workshops, toolkits, and templates to help readers find your books.
Maybe you're doing well marketing your books but know you could be doing more, or maybe you've written a book but it's not making the sales you hoped it would. Don't be discouraged and overwhelmed any longer. Get the tools you need to market your books and increase your sales.

*Get an additional 10% off using the links I've provided here. If you don't see an extra 10% off at checkout, use the discount code LANAHALLEN
Get Speaking Engagements
Do you want to get booked for podcast interviews or be invited as a summit guest? The Book Marketing Shop has the perfect toolkit for you. Check out the Media Kit. Speaking engagements are a great way to share helpful information and let readers know about your books. I used the media toolkit to launch a media room on my website. Through the training I got booked for my first podcast interview and my first audio summit interview. Having the media kit done and on my website made it easy to access everything I needed for these speaking engagements.
Choose the workshops, toolkits, and templates you need to market your books without all the stress that comes with trying to figure it all out on your own. Shop for your marketing needs today to feel happier, calmer, and more peaceful about your author business. Check it out here: Book Marketing Shop.
Note: The Book Marketing Shop is an affiliate link. That means if you purchase something from these links I may receive a small commission, but it doesn't cost you anything extra. I hope you enjoy and receive great value from the things I've shared here. I've been so blessed with the many toolkits, workshops, and templates in the Book Marketing Shop. Thank you for any purchases you make and I know they will be a great blessing to you too.