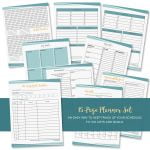 Do you want an easy way to keep track of your schedule, to-do lists and goals?
If so, we've put together a 15-page Planner Set that you can download and use over and over to stay organized and reach your daily, weekly and monthly goals. Most of the pages have this encouraging verse on them, "Commit your actions to the Lord, and your plans will succeed." – Proverbs 16:3
Don't be discouraged and overwhelmed any longer. Get organized now and feel happier, calmer, and more peaceful. Get your 15-Page Planner Set (pdf) and start accomplishing your goals today! CAD $15.