Worry, stress, and fear often dominate our thinking. These thoughts come up no matter how unwelcome they may be. No matter how hard we try to push these thoughts away, they insist on tormenting us.
How do we get rid of these unwanted thoughts? How can we let go of this disturbing mind chatter?
Here are three simple steps to start making changes and take control of your thinking:
Acknowledge that the thought you're thinking is making you feel bad.
Choose to think a better feeling thought: an enjoyable memory, an activity that you are looking forward to, an outcome or result you would like to have happen, or any other thought that makes you feel good.
Implement the new feel good thought. Do not try to eliminate the bad feeling thought; this will make you focus on it even more. The key is to replace the old bad feeling thought with the new good feeling thought.
Every time the bad feeling thought comes into your mind, acknowledge it and say, "I choose to think a better feeling thought now." Now repeat the better feeling thought in your mind or out loud. Put your focus on this new thought; notice how this new thought makes you feel. Enjoy thinking this new positive thought.
Be loving and patient with yourself; it takes time to make changes, but keep working on it. You can do it!
"If you try to get rid of a negative thought or habit without replacing it with something else, your focus will be on the negative thought or habit. What you focus on will grow bigger in your life, so focus on what you want, not what you don't want. Focus your mind on empowering positive thoughts instead of negative unhealthy thoughts."

"Whenever you notice a thought that is not serving you, immediately come up with a positive thought to replace it with. Put your attention on this new thought, make it your focus, and in time it will become your new habit, a good habit."

Quoted from the book: Love Yourself Being You: A Way to Live Your Best Life
Chapter: Conquer Stress (Stop Being Controlled)
Read more → Continue to quiet your mind, eliminate stress, and find inner peace.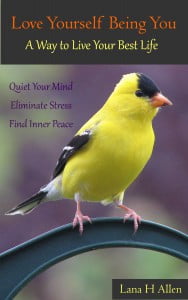 Buy now on:
Amazon.com
Amazon.ca
Amazon.co.uk
NO KINDLE REQUIRED! → You do not need a kindle to read kindle books. CLICK HERE
to download your free Kindle reading app. Read Kindle books on your favorite devices–computer, tablet, smartphone, or read instantly in your browser with the Kindle Cloud Reader–no Kindle required.