I filled up my bird feeders yesterday and today I did a photo shoot.
As I waited patiently for the shots I wanted, I worked on a writing challenge. I was challenged to focus, plan, set goals, develop good writing habits, and of course—write.
My work spread out before me, my camera at the ready, it was time for some serious work and some serious waiting…
I was concentrating on my writing when suddenly a Blue Jay flew right over my head to the window ledge behind me. I lifted my camera to take his picture and he tilted his head to the side and looked at me, probably looking at his reflection in my lens. 
When he went to fly off, he knocked a black cup off of the ledge and startled us both! I was happy to get his picture and capture the moment, but when that Blue Jay looked at me and I looked at him, it was as if time stopped for a few seconds; deep in my soul, I felt an amazing connection to nature – The Blue Jay Connection – he was observing me observing him!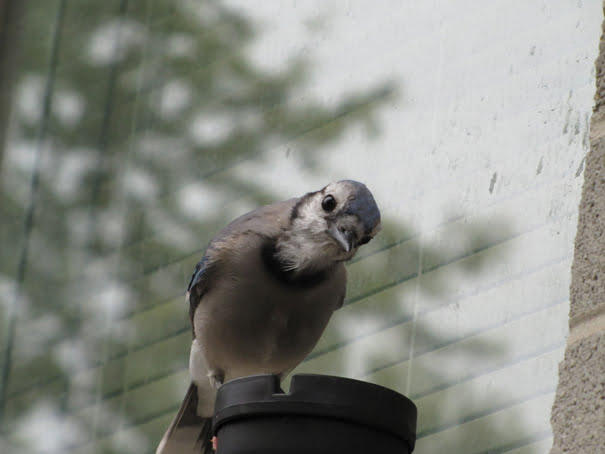 While waiting for the Blue Jay another visitor stopped by: