Love Yourself Being You: A Way to Live Your Best Life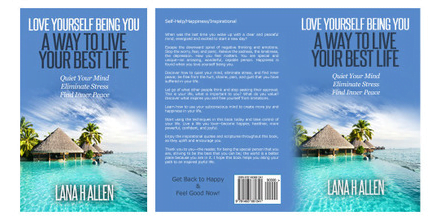 When was the last time you woke up with a clear and peaceful mind, energized and excited to start a new day?
Do you constantly feel exhausted from the daily stress in your life?
Do you find it hard to focus and get things done?
Are you tired of feeling hurt, unworthy, and always trying to please others?
Are you constantly challenged with worry, fear, and panic—feeling out of control because you can't stop the negative thoughts?
How long has it been since you were truly happy and felt great?
Escape the downward spiral of negative thinking and emotions. Stop the worry, fear, and panic. Relieve the sadness, the loneliness, the depression. How you feel matters. You are special and unique—an amazing, wonderful, capable person. Happiness is found when you love yourself being you.
Imagine feeling calm and confident.
Visualize yourself enjoying your relationships more.
Express your true feelings—stop being afraid to speak up.
Quit hiding and pretending to be someone you're not. You are special being you!
Notice yourself making better choices, having better health, realizing opportunities.
Don't let your thoughts keep you up at night—change your mindset and sleep well tonight.
See yourself getting that promotion, finding the perfect mate, making the income you desire—quiet your mind, eliminate stress, and find inner peace.
Learn how to use your subconscious mind to create more joy and happiness in your life.
Start using the techniques in this book today and take control of your life. Live a life you love—become happier, healthier, more powerful, confident, and joyful.
Enjoy the inspirational quotes and scriptures throughout this book, as they uplift and encourage you.
Get back to happy and feel good now!
Love yourself being you. You are wonderful. You are amazing.