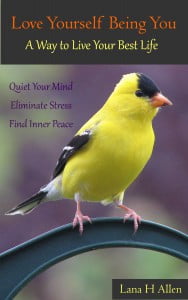 The Story Behind the Cover Photo:
A bird feeder and a little nyjer seed attracted this American Goldfinch to my backyard. These little birds are active, quick, and only 4.3 to 5.1 inches (11-13 cm) in length; it took a tripod and plenty of patience to photograph his beauty. The purple and green background is the blur of trees in the distance.
To create the book cover, I added banners and words to the photograph in Photoshop Elements.
To learn more about this amazing bird and to listen to the beautiful songs and calls, visit: The Cornell Lab of Ornithology–All About Birds
Love Yourself Being You: A Way to Live Your Best Life
Now available in paperback too!
Are you ready to start living a life you love? Are you ready to get life changing results and become happier, more powerful, confident, and joyful? Let go of worry and stress. Start using the techniques in this book today and take control of your life.
Happiness is found when you love yourself being you, when you uncover the unique and special person that you are, your authentic self. Let this inner knowing, this inner power guide you; discover the wonderful, amazing, powerful person that you are.
Being your authentic self feels right, it is empowering, invigorating, and real. Allow yourself to be free from the person you became when life was a struggle, when you developed limiting beliefs, negative thinking, or chose a direction that did not serve your highest good.
Discover how to quiet your mind, eliminate stress, and find inner peace; be free from the hurt, shame, pain, and guilt that you have suffered in your life.
Let go of what other people think and stop seeking their approval. This is your life, what is important to you? What do you value? Discover what inspires you and free yourself from limitations.
See yourself and your life in a new and powerful light. You are already enough; all of the special talents and abilities you need to live a life you are passionate about are already within you.
Enjoy the inspirational quotes and scriptures throughout the book, as they uplift and encourage you.
Love yourself being you. You are wonderful. You are amazing.
Buy now on:
Amazon.com
Amazon.ca – Canada
Amazon.co.uk
NO KINDLE REQUIRED! → You do not need a kindle to read kindle books. CLICK HERE
to download your free Kindle reading app. Read Kindle books on your favorite devices–computer, tablet, smartphone, or read instantly in your browser with the Kindle Cloud Reader–no Kindle required.