Your health and well-being are too important to be stressing out. Love yourself and let go of the pressure–your life depends on it!
Here are a few techniques that may help:
Take a walk while listening to a calming audio or music that makes you feel good.
Read a short section of a calming encouraging book.
Use EFT to tap away whatever is causing you stress.
Listen to a hypnosis recording – there are daytime ones you can listen to while you go about your day.
Have a relaxing cup of healthy tea.
Talk to a supportive loving person.
Sit quietly, breathe deeply & calmly. (Even if you can only get a bathroom break.)
For more ways to quiet your mind, eliminate stress, and find inner peace, get a copy of:
Love Yourself Being You: A Way to Life Your Best Life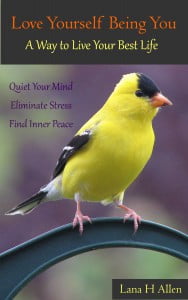 Buy now on:
Amazon.com
Amazon.ca
Amazon.co.uk
NO KINDLE REQUIRED! → You do not need a kindle to read kindle books. CLICK HERE
to download your free Kindle reading app. Read Kindle books on your favorite devices–computer, tablet, smartphone, or read instantly in your browser with the Kindle Cloud Reader–no Kindle required.